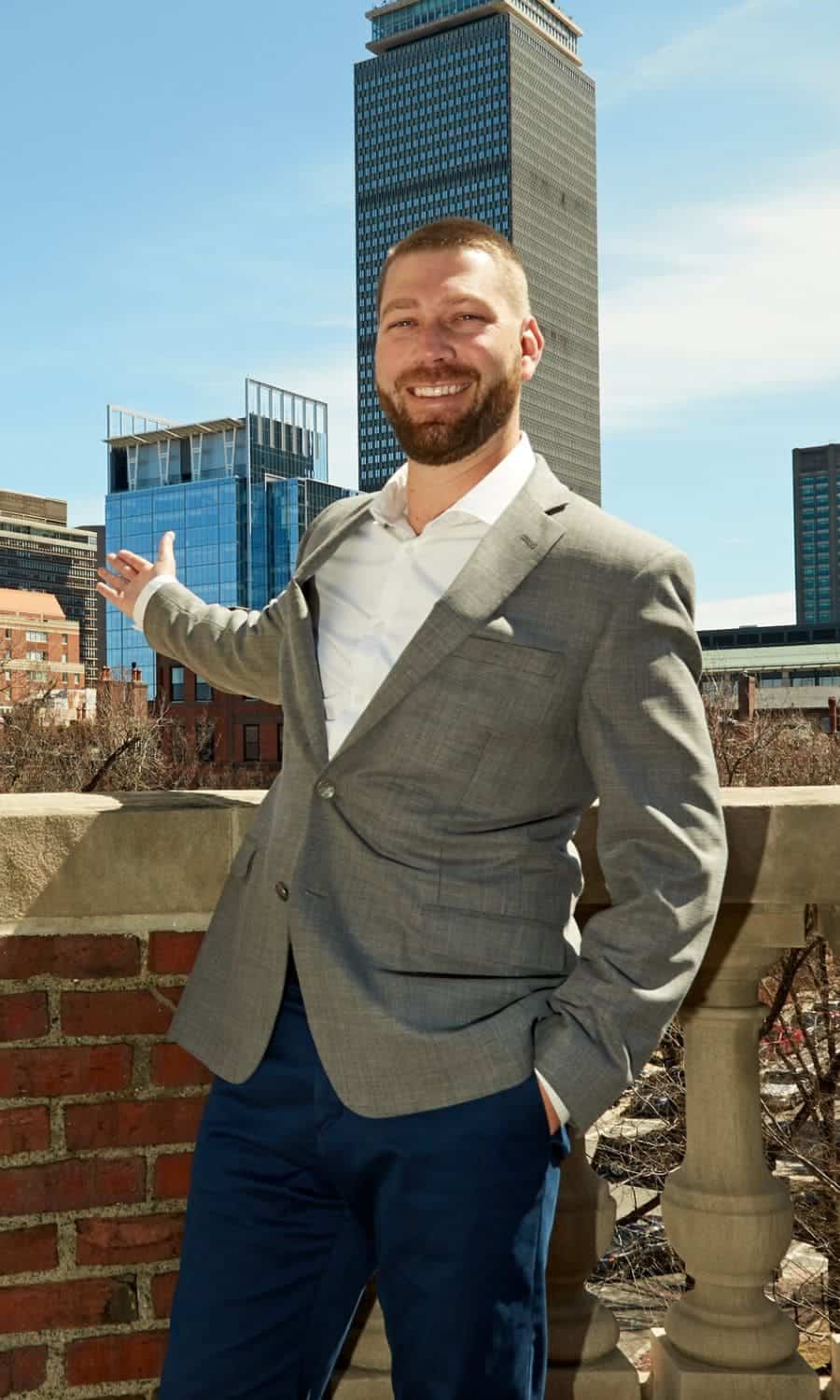 Haywood | Kristiansen Group
|
Vice President
Benjamin T. Haywood was born and raised in the Boston area. He attended Newton North High School, where he was a three sport athlete. Haywood continued his education at the U. of Delaware, receiving a BS in Business Administration- Management. Following graduation in 2007, Haywood accepted a position at Otis & Ahearn Real Estate in Boston's Back Bay. After four years of accumulating and analyzing data for Boston's full-service buildings, Haywood mastered the renting vs. purchase [...]
Benjamin T. Haywood was born and raised in the Boston area. He attended Newton North High School, where he was a three sport athlete. Haywood continued his education at the U. of Delaware, receiving a BS in Business Administration- Management. Following graduation in 2007, Haywood accepted a position at Otis & Ahearn Real Estate in Boston's Back Bay. After four years of accumulating and analyzing data for Boston's full-service buildings, Haywood mastered the renting vs. purchase relationship. With a focus on the downtown luxury condominium markets, both sales and rentals, he strives to provide his buyers/sellers/renters with the most current, and accurate decision-making data. As a homeowner in Southie, Haywood has personally experienced the buying process. He is data driven, and closely studies the rental and sale markets. In his first 10 years alone, Haywood conducted over 200 luxury rental deals, and completed over $100 million in sales. In 2011, Haywood joined Campion & Company Fine Homes, working for Boston's top agent, Tracy Campion. In 2013, after a two year stint with Campion & Co, Haywood teamed up with Boston's fastest growing real estate office, Berkshire Hathaway - Warren Residential. He is looking forward to growing his team and entering into the world of real estate development. More recently, Haywood's local network have been beneficial in accessing numerous off-market properties. Other than selling real estate, Haywood enjoys coaching the Newton North Boys Varsity Soccer team, golfing, and Summer days in Westport Harbor.
Office Location
535 Boylston Street
Boston, MA 02116
Contact Info
Specifications
Languages:
Specialties:
Service Area:
Benjamin's Testimonials
Jenny was such a huge help with both the buying and selling process. She was attentive and made sure we got everything we wanted, patient with us when we had questions, and responsive to our texts/calls. She found us the perfect house and got us a great offer on our condo. We 100% recommend Jenny at Benjamin Haywood!
Emily Mullaney
Jenny helped me find a great new apartment with everything on my wish list AND in my price range! Jenny was always very responsive and worked very hard to find my dream home for me and my dog. I HIGHLY recommend hiring Jenny as your realtor because she is knowledgeable about the real-estate market and is excellent at her job!
Alexa R
I cannot say enough great things about working with Haywood Kristiansen Group. They have tons of experience and offer great advice! I would recommend them to all family and friends!
Chris D
Ben and team were outstanding to work with helping us both sell a home and then purchase a new one. I highly recommend the Haywood Kristiansen Group.
Adam C
Jenny was such a pleasure to work with! She was super eager to help, extremely responsive, and had such a great attitude. She answered every question we had and when she wasn't 100% sure about something, it was extremely evident that her team was very knowledgeable. Overall she made the entire experience really pleasant for a 1st time home buyer!
ethan g
I just moved to Boston back in June of 2021 and I didnt know anyone in the city to get advice of location. I found Annette online and she helped give a brief summary of the different locations and the pros and cons. After I told her what I was looking for, she helped narrow down the neighborhoods she thought worked best for me. I ended up in South end which looking back over 6 months ago was the best location for me. She not only helped me find the right part of the city, but she also managed [...]
Ramin
Ben was extremely helpful throughout the buying process. We got our first offer accepted on our dream home! We highly recommend working with Ben and his team.
Richard Mullaney
Ben Haywood professionalism and communication is top notch. Buying and selling a house is complicated and stressful, Ben's calm and collective approach made the process seamless. He's very supportive of pushing the limits during negotiation but his knowledge of the market helps to focus our energy on the right areas. Thank you Ben for all of the continued support!
Michael Eng
Annette at the Haywood Kristiansen Group was truly so helpful when I needed a new apartment last year. She was friendly, attentive, accommodating, and always available despite me being from out of town and in a different time zone. You seriously can't go wrong with Annette or this realty group. I will definitely be using them for all of my future renting/buying needs!
Ashly Yamat
Annette was great to work with! She was very responsive and easy to communicate with. There were no barriers in our rental process. Smooth and easy! Would happily work with her again for our next home!!
Lindsey Nally
Contact
Hi there! How can we help you?
Contact us using the form below or give us a call.
Hi there! How can we help you?
Contact us using the form below or give us a call.